Qualified Jenbacher factory trained technicians overhaul, rebuild your engine or integrate a remanufactured block as required.
Our flexible options ensure that engine parts are thoroughly checked and all necessary parts subject to wear are replaced in accordance with the original maintenance specifications:
The short block option, Jenbacher 's basic engine version, ensures the best cost and the possibility of adding already refurbished parts directly onsite . Advantages include technical upgrades and fast delivery. The scope of supply includes: core engine , refurbished crankcase, refurbished crankshaft, new camshaft, new bearings , new pistons, and cylinder heads.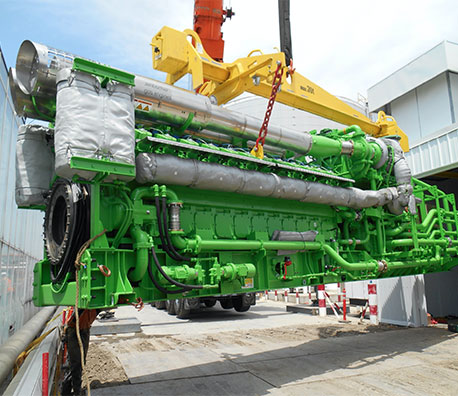 The long block option provides extended scope of supply that is precisely adjusted to your needs and contains a comprehensive engine test -run at INNIO's Jenbacher test bench facilities. The scope of supply includes: short block options , turbocharger, intercooler , exhaust manifold, ignition system, and gas mixer.
The genset option allows you to change out your entire module . What you receive is a tested and completely functional unit, which will be set up at your site in the shortest time possible . The scope of supply includes: long block options , alternator (by supplier), heat exchanger (by supplier), control cabinet (update), and coupling elements.